There is no doubt K11 Musea has been on every Hong Kongers wishlist since its opening. As a gastronomic, art and culture hub of Hong Kong, they consistently have a lot to offer, from artistic cafes or casual gatherings, to the most prestigious fine dining destinations – here is a comprehensive guide to restaurants in K11 Musea.
Cafes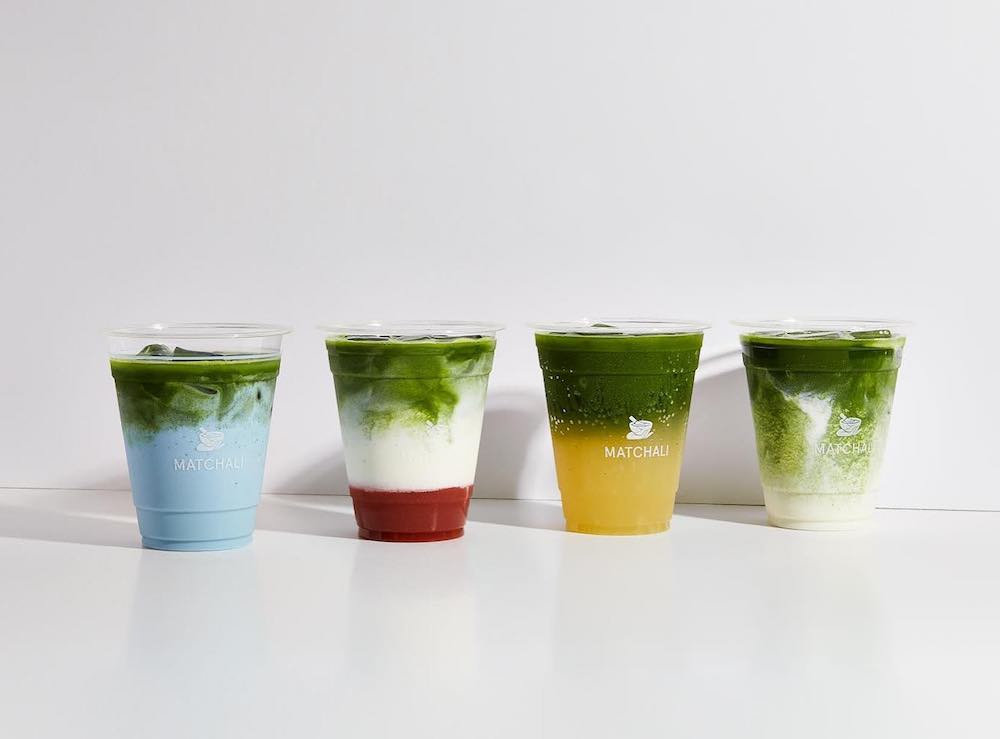 Matchali
Matchali has its very own zen corner on the first floor for homegrown Japanese tea. Echoing the wellness effect of matcha, this largest space yet is designed to advocate mindfulness. With an expansive whisking station centred in the space, enjoy a panorama live whisking session at the café. The staples Hojicha latte, Matcha latte are simply not to miss along with assorted snacks and cakes catering for vegan and gluten-free advocates.
Matchali, Shop LA106, 1/F
Curator Art & Café
Echoing its artsy location, Curator Art & Café brings art culture even closer to our everyday life on the B1 floor. The flagship offers the finest coffee and cakes surrounded by artworks from the most iconic international artists, to the up-and-coming local gem. Seasonal collaborations can be found occasionally, where limited offerings are served with artworks imprinted – lookout for the next thrilling news.
Curator Art & Café, Shop B113C, B1
Gontran Cherrier
Widely known for the best croissants in Paris, Gontran Cherrier held its legendary tale of having extra-long queues at its debut in Hong Kong. Located at B2 basement, the French patisserie set Hong Kong as a base before spreading the Parisian vibe to Asia. Using the finest flour and butter exclusively flown from France, they serve more than 50 selections of baked goods for grab-and-go along with an expansive cafe and restaurant for dine-in.
Gontran Cherrier, Shop B205 – B207, B2
Blooms Coffee
Matte gold and rustic white might not exactly be the taste of Moses Chan, but it is aesthetically pleasing for fellow coffee lovers. Famed for their varieties of Single Origin coffee beans handpicked by the founders per se, Blooms Coffee's minimal space on the 2/F is curated to be calm and soothing for a full coffee sensory experience. To diversify the flavour and sensation of the coffee, their snacks are not necessarily as mundane as a regular cafe – offering Sichuan Spicy Crabmeat on Brioche Roll and many more as a demonstration of Moses's philosophy.
Blooms Coffee, Shop 221, 2/F
Casual Eats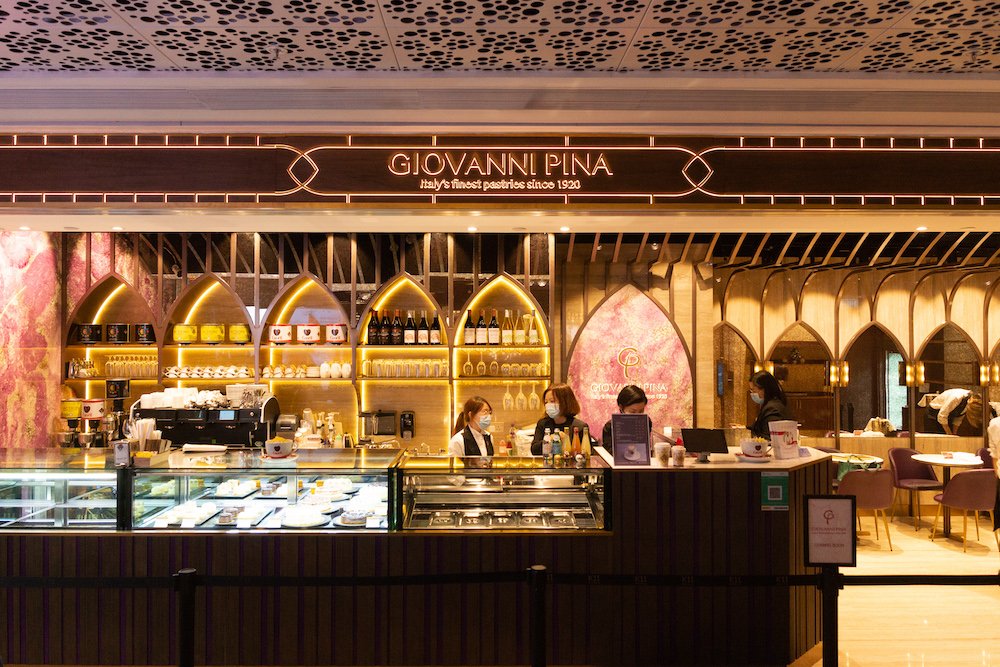 Giovanni Pina
Helmed by one of the world's 100 best pastry masters, Giovanni Pina is a third-generation inherited bakery hailed from Italy. The restaurant brought its rich Italian history to Hong Kong, putting authenticity and prime quality at the forefront. Ingredients are sourced directly from its motherland to ensure fresh, quality ingredients year-round. From their tantalising garlic sautéed mussels in tomato sauce as a starter and the fresh truffle risotto sourced from the century-old SAVINI TARTUFI truffle to the signature 144 layered handmade cream rolls and selection of mini pastries, it pays tribute to heart-warming Italian hospitality by the book.
Giovanni Pina, Shop 217, 2/F
Chatterbox Café
Dated back to 1971, Chatterbox opened in Mandarin Orchard in Singapore serving the most iconic local dish – Mandarin Chicken Rice. Accolated as the Singapore Prestige Brand Award, they ventured out with their 48-year legacy and had an upgrade for the cultural-retail hub. Highlights include Jumbo Scallop Laksa, Salted Egg Chicken Wings, and of course the Mandarin Chicken Rice for an authentic Singaporean flavour.
Chatterbox Café, Shop B110, B1
Kiki Noodle Bar
Initially started by actress Shu Qi as a Taiwanese instant noodle brand, Kiki Noodle Bar has now infused Sichuan and Japanese elements for pan-Asian delights. As an extended line, Kiki Tea brings in rich and authentic bubble tea drinks, widely-celebrated among the community. Situated at 4/F around the corner, it is slightly distanced from other eateries but doesn't stop them from being the cult favourite of all.
Kiki Noodle Bar, Shop 406, 4/F
Takano Ramen
Multi-awarded and 4-year Michelin-recommended Takano Ramen is known for its daily fresh-made noodles and slow-boiled broth. Started as a family business, the craftsmanship of Japanese cuisine remains acclaimed – the perfect combination of a clear yet rich-flavoured soup, and a for their al-dente in-house noodles. Whisk away to Tokyo with the signature shoya ramen, or Spicy Sesame Soba and Pork and Duck Tsukemen for an extra Hong Kong touch.
Takano Ramen, Shop 220, 2/F
Fine Dining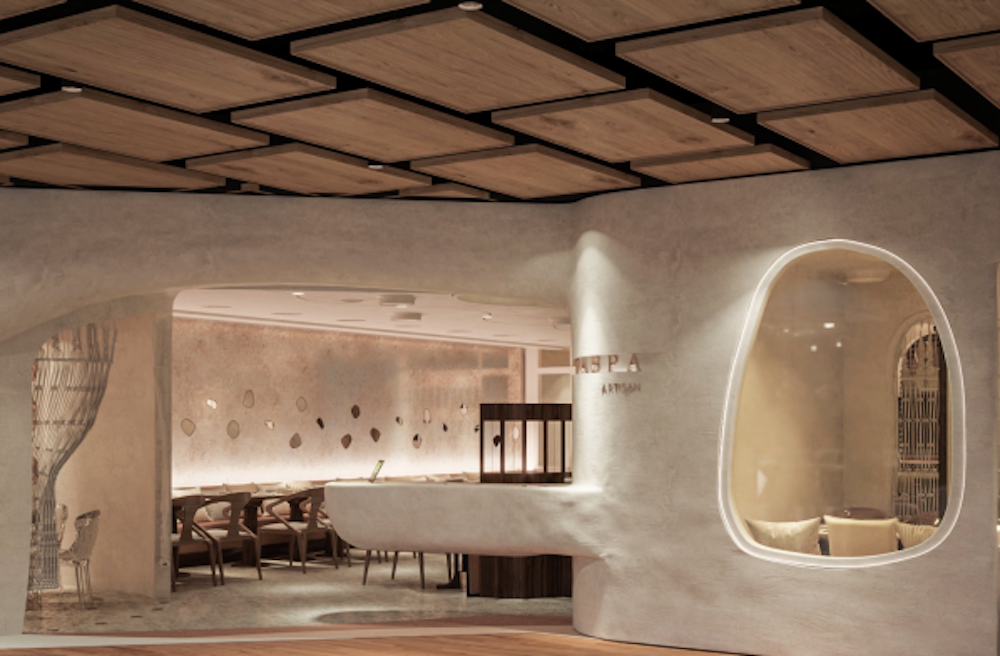 Dab-pa Artisan
A newcomer to K11 Musea B1 basement, Dab-pa Artisan stands out as a beige-pink crave-themed restaurant – a photogenic and social-worthy interior. Serving contemporary Chinese fusion, Chef Ki pledged to boldly experiment every dish with the finest ingredients from every corner of the world, while keeping the presentation insta-friendly. The results are discerning Chinese flavours with a Western hint, such as beef tartare adorning with sesame oil and Sichuan spice, and inventive cocktails, mocktails and traditional teas.
Dab-pa Artisan, Shop B111, B1
Bayfare Social
Tucked inside the luxurious Rosewood Hong Kong, expectations to Bayfare Social is sky-high together with the helm of Chef de Cuisine Álvaro Ramos. The vibrant and upbeat atmosphere set the ground for the Spanish culinary tradition. From paella counter to tapas at the bar, spritz and craft beer, they unite the Madrid time-honoured cooking techniques with Asian flavours. Guests are welcomed at the 5/F of the establishment, perfectly concluding their meal with the spectacular landscape of Victoria Harbour.
Bayfare Social, 5/F, Rosewood Hong Kong
Cobo House
Led by Hong Kong chefs Ray Choi and Devon Hou, Cobo House serves indulgent seasonal menus altering every 6 weeks. Featuring the finest seasonal ingredients, the course menu is presented in edible art forms, showcasing exquisite culinary artistry and its history in every dish. Situated on the 6/F, guests can enjoy a spectacular harbour view from all angles, best appreciated at sunset as you watch the sky turn from blue to indigo.
Cobo House, Shop 602, 6/F
Tirpse
Tirpse refines Japanese-French fine dining with its seasonally-rotating menu that combines the best of East-meets-West culinary techniques and top-notch ingredients. Helmed by Chef Shimizu, the waterfront restaurant is the top spot for date night and celebrations with the intimacy of its signature modern cabin theme. Lunch or dinner set menus are served with optional wine pairing followed by a coffee on the outdoor terrace, where Victoria Harbour and its glittering skyscrapers await.
Tirpse, Shop 219, 2/F
yè Shanghai
yè shanghai takes you back to the swinging 1930s in its namesake city filled with sophistication and glamour. The Michelin-starred restaurant spans over two floors and pays homage to cuisines of neighbouring provinces like Jiangsu and Zhejiang. Using methods like braising, roasting, quick-frying and steaming, signature dishes such as braised beef ribs with brown sauce and river shrimps are curated for discerning diners.
yè Shanghai, Shop 702, 7/F